GROOVES & SUFI SOUNDS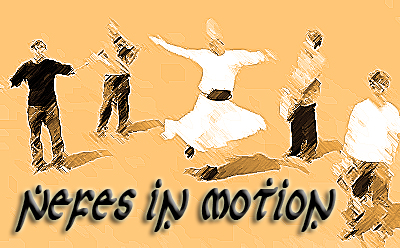 NEFES IN MOTION
Within the context of Sufi Music "nefes" means roughly:
"when the heart jumps full of joy and pure delight, and excitement expresses itself, and the usual forms have vanished, than this excitement is neither dance nor pleasure of the flesh, but the soul`s very dissolution."
(Ibn Taymiya 1263 - 1328)

The ensemble "Nefes in Motion" based in the Ruhr-area in Germany is bridging the gap between Europe and Asia, between tradition and contemporary. Sufi Music meets cutting edge jazz. On one side one finds traditional compositions which have accompanied Sufi Dancing for hundreds of years, the "ney" or oriental flute, being the main instrument in Sufi Music, plus oriental percussion and rhythms. On the other side one finds that this core material has been thoroughly modernized by using jazz based harmonies and jazz influenced improvisations, and using those as "guidelines" their own original compositions. Electric guitar and electrified violin and the use of electronic sound effects create vast open sound scapes aided by beats provided by electronic percussion and Jens Pollheide on bass and flute and Marcin Langer on flute and saxophone.
The dancer Talip Elmasulu, who is employing the technique of Sema Dancing, converts this musical event into dance and movement, turning it into an almost unique sensual experience.
Murat Cakmaz - ney, zurna, kavala, vocals
Marcin Langer - flute, saxophone
Andreas Heuser - e-guitar, e-violin
Kazim Çalisgan - percussion, e-percussion, vocals
Jens Pollheide - bass, flute
Talip Elmasulu - sema dance